ABOUT SERENA
SERENA DUGAN is an artist and textile designer based in Sausalito, California. With an education in both Psychology and Fine Art, Serena has spent the past 20 years developing her imprint as a painter and designer — first as Chief Creative Officer of Serena & Lily, the home and lifestyle brand she launched 15 years ago, and now at the helm of her namesake brand.
Serena's rallying belief is in the power of art to transform an environment into an experience. This can take the form of an energetic painting or a striking pattern that defines and enlivens a space. Her background in both mediums allows her to toggle between the two as she explores the themes of rhythm and form. With pattern, her focus is on creating harmony through repetition, shape, and placement. With painting, she creates impact through layering and composition. Each art form sharpens the other by means of opposition — both equally representative of her aesthetic fingerprint.
She and her two young children reside in Sausalito, CA, close to her sun-filled studio on the waterfront.
Timeline
1990–1994

School. First pass. Graduate with a B.A. in Psychology. Wake Forest University, Winston-Salem, NC.

1996–2001

School. Second pass. Work toward my B.F.A. in Fine Art in Denver, CO & Florence, Italy, then refocus on Textile Design, Berkeley, CA.

1998

Establish my studio, focusing on decorative painting and commissioned artwork. Also create site-specific pattern painted freehand in hotels, restaurants, homes, and on-set for catalog photoshoots.

2001

Design and develop my first line of fabrics under Serena Dugan Design Studio, block-printed in my studio and sold through stores and designers throughout California.

2004

Launch Serena & Lily with Lily Kanter — originally a nursery concept based on my designs.

2006

Serena & Lily expands into kids' rooms. I assume role as lead textile designer and Chief Creative Officer.

2007

Serena & Lily continues to grow, moving into the whole home. Our signature use of color and pattern and fresh approach to decorating transitions seamlessly out of the nursery into the rest of the house.

2008

S&L exits wholesale and circulates its first catalog.

2009

Serena & Lily launches our online Bazaar: my excuse to keep traveling the world finding treasures and inspiration. Turns out that discovering artisans and supporting spectacular indigenous craft, then bringing it back for our customer, is a win-win-win. While excitingly rogue and adored, it proves to be deeply unscalable.

2011

S&L Bazaar becomes S&L Art Collection, allowing us to further define our point of view through original artwork, while supporting talented, undiscovered artists — another mission near and dear to my heart.

2013

We open our first store: The Serena & Lily Beach Market in The Hamptons — a joyous culmination of many years of designing and dreaming.

2014

Our second store opens in San Francisco: The Design Shop. I'm asked to paint a large triptych as a store installation. Third store in LA - A diptych. This reignites a fire for me.

2015

Several new stores open and I continue painting, joining the Art Collection as one of our featured artists, alongside my day job.

2017

I leave the business to return to the studio — my roots. I sell my paintings through the S&L Art Collection as well as the SBFA Gallery in San Francisco.

2018

I attend my first Art Residency in Orquevaux, France. Putting life aside and focusing fully on painting at Chateau Orquevaux reconnects me to the source of my creativity and reminds me why I've chosen this path.

2019

I love to paint, and also see pattern when I close my eyes. I recognize that my form of expression is inclusive. A fuller view of my studio forms: It will include paintings, textiles, and objects. This will allow me to pursue all passions, and weave them together in a way that tells my creative story fully.

2020

Serena Dugan Studio launches fabrics and wallpapers in showrooms worldwide, with Objects to follow in the Fall.
Inside the Studio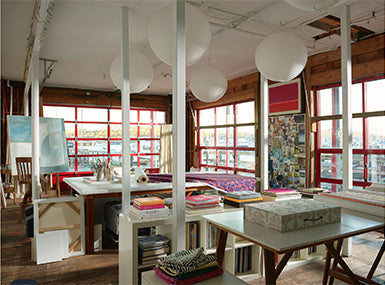 This airy space sits out on a lively pier on the Sausalito waterfront. In the morning it fills with light, the garage door opens and studio bustle commences.
There are always multiple projects and creative threads happening at once, each igniting, inspiring, and informing the other.
Here's a slice of the creative chaos inside the studio right now: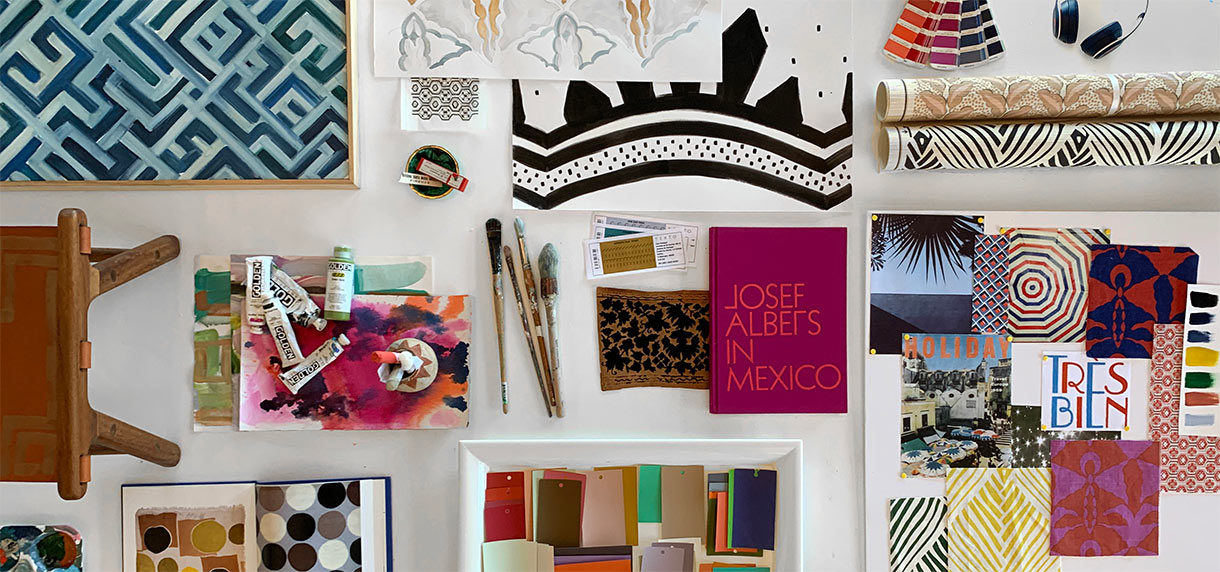 painting
Always! I keep this painting out and in-view. It inspires textile prints and further art exploration.

objects
Category Development. Coming in the Fall. Finally figured out the perfect paints to use to paint leather! Mind blown...investigating all the applications. This is how the Objects category will develop: Curiosity, experimentation, and collaboration with artisans I admire.

inspiration
Having a Sonia Delaunay moment. This book arrived to me in a treasure trove of art/design books from my grandmother's stash, which I rifle through on a daily basis.

experimentation
Always pushing and exploring. This was my first try with pourable mediums and high flow pigment. Also playing with oil sticks...loving the texture. PS - My favorite paint color at the moment: Green gold. So vibrant, right out of the bottle! Loyal to Golden Acrylics.

mood
I take vibe seriously. Mood-setting is critical to creativity. These incense papers have set the stage for my creative work since 1998 - when I first walked into Farmacia Santa Maria Novella in Florence, Italy when in art school there, and smelled paradise. This scent calls the muses for me.

textiles
The studio is a sea of pattern sketches, fabric samples, inspiration boards and wallpaper bits, as we roll from design to production to the launch of the new textile collection.

travel
Travel informs design for me, and design informs travel. Case in point: this amazing book about Josef Albers (famed colorist and abstract artist) who chronicles his passion for Mexico's art and architecture, and its influence on his painting. This book, plus the TEXTO textile fair, led me back to Mexico City recently. This trip will undoubtedly inspire my art and design work going forward.

new techniques
Already thinking about where SDS Textiles goes next. Thank goodness for a couple decades of collecting vintage textiles and techniques. I pull from this library to explore new directions like embroidered leather.

color
Always playing with color chips...an easy way to find surprise color harmonies.

music
A dominant factor in studio energy. Lucky for the three of us, we share a wide-ranging taste in music, and it is a perpetual backdrop in the space.
Current Studio Playlist:
Andrew Bird - Bloodless
Finley Quayle - Even After All
Bahamas - Waves
Rayland Baxter - Yellow Eyes
Edward Sharpe - All Wash Out
Bill Withers - Use Me
Frank Ocean - Lost
Chet Faker - Gold
Bob Moses - Tearing Me Up
Khruangbin - Two Fish and an Elephant
Lewis Del Mar - Wave
Wycliffe Jean - Gone Till November
Widespread Panic - Pickin Up the Pieces
Spoon - Inside Out
Boy & Bear - Wicked Game
Gregory Alan Isakov - San Luis
Mandolin Orange - Wildfire
Grateful Dead - Loser
Gillian Welch - Look at Miss Ohio
Barr Brothers - You Would Have to Lose Your Mind
---
Credits
All textile photography courtesy of Laurie Frankel Photography, styling by Barb Ries. Their work has brought mine to life for well over a decade. Special thanks to both of them for their dedication and spirit!
Much of the scenic photography on the Collections collages courtesy of nomadic aesthete and friend Lucas Lai, who lucky for me, seeks and captures beauty perpetually.
Killer site designed by Herd Creative.
Lauriefrankel.com
Barbries.com
@lucas1005 (IG)
Laherd.com